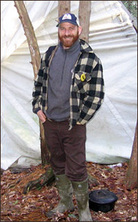 Check out this great piece at NPR about a high school in Vermont that teaches outdoors all year long.  The Walden Project focuses on environmental studies and the works of Henry Thoreau.  Talk about innovating by going back to your roots!
Matt Schlein, the founder of the Walden Project, came up with these four key principles:
– Place-based classroom; 260 acres of land make up the school.
– An integrated curriculum; all subjects are taught together as one program.
– The philosophy of H.D. Thoreau; students think about their relationship to self, to culture and to the natural world.
– Stay outside; students stay outside two days a week in the winter and three days a week during the spring and fall.